A Message from the Chapter President
Marguerite Oetting, MD, FAAP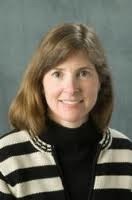 To all members,
The election is over and it is time for all sides to come together to do the work of democracy once again. This work is hard and will require the strength of pediatricians from all parties to accomplish good things for our children. Some of you may be disappointed, some of you may be elated, but Iowa's children are depending on us to advocate for them no matter what party we join or which candidate we supported for president.
This is a very important legislative year for children and families. CHIP funding, which supports our successful HAWK-I program in Iowa, is up for renewal. Without successful legislation to renew funding, the program will technically exist but will have no money, and 83,000 Iowa children will lose this affordable insurance option. The Affordable Care Act is likely to be modified, and pediatricians need to be part of the dialog because we understand how important healthy families are in creating healthy children. There will likely be other bills introduced at the state and national level that affect children and families. We must be watchful and express our collective and individual opinions.
The Iowa AAP will be registering an official opinion on many bills that pertain to children and families during the upcoming session, and we will actively lobby on one or two. That said, we are limited, as a tax exempt organization, in the amount of our budget we can spend on lobbying in order to retain our 501 (c)(3) status. This amount translates directly into how much lobbyist time we can buy and we will have to prioritize issues. Given these constraints, Iowa AAP will depend on the efforts of individual members to speak up and contact legislators at the state and national level when they are moved to voice an opinion on an issue. I strongly encourage you to get involved when you like or do not like what is happening in our state or in our nation!
Things you can do right now are:
1. Contact your legislators to let them know which issues you feel strongly about.
2. Contact legislators you read about if you have an opinion on their actions or statements.
3. Sign up for the state Republican and Democratic newsletters to keep abreast of what is happening.
4. Join the Iowa Chapter of the AAP if you have not already (and encourage colleagues to do so) in order to receive our bi-weekly updates on what is happening in the state legislature.
5. Join National AAP to support their advocacy efforts on behalf of children at the national level.
If there are members who have questions about how to become more active in advocating for children, please respond through the chapter email account.
Here is a link to advice from AAP CEO Karen Remley on speaking to children about the US election:
https://www.aap.org/en-us/aap-voices/Pages/Talking-to-Children-About-The-Election.aspx
Here is a link to the AAP Blueprint for Children (advice on children's issues for the next president):
https://www.aap.org/en-us/transitions/Pages/blueprint-for-children.aspx
Let's all get busy doing good work to make children's lives better in Iowa and in the United States of America!