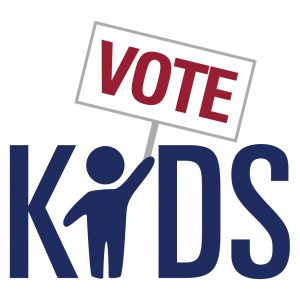 The national midterm elections are Tuesday, November 6. All 435 seats in the U.S. House of Representatives and 35 of the 100 seats in the U.S. Senate will be contested. In addition, 36 governors, more than 6,000 state legislators, and scores of other state and local officials across the country will be elected.
There is a lot at stake for children. Many key child health issues such as access to health care, immigrant child health and firearm safety are sure to be discussed leading up to the election. Although children do not have a vote, the Academy is working to ensure they have a voice.
AAP's Get Out the Vote campaign, #VoteKids, encourages pediatricians and others who care for children to vote with kids in mind in November. It is critical that our elected leaders and those running for office hear the message: put kids first. The campaign website, aap.org/votekids, provides information, tools and resources to help you speak up for children at the ballot box.
One of the most important things you can do now is ensure you are registered to vote and have a voting plan in place for November 6.
Join AAP this week for a #VoteKids Week of Action. Here are ways you can take part:
Check your voter registration: You can register to vote or verify your voter registration status at vote.org. This is especially important for medical students or residents who have moved - your voter registration does not automatically transfer.
Make your voting plan:
Make sure you are aware of your state's voter ID requirements and registration deadlines.
Medical students, residents and fellows: If you are training in a state that differs from where you are registered to vote, request an absentee ballot to vote by mail in your home state
IMPORTANT: Are you attending the 2018 AAP National Conference and Exhibition in Orlando? The last day of the conference, Tuesday, November 6, is Election Day. Many states offer absentee and early voting options to ensure your ballot is complete and will be counted. More information here.
For more information on voter registration, absentee voting, and early voting, visit this webpage.
Share why you #VoteKids on social media: Update your social media profile picture to show others that you #VoteKids and share messages on Twitter and Facebook found in the #VoteKids Toolkit.
Check out the AAP's #VoteKids toolkit: The AAP's #VoteKids Toolkit has resources and tools you can use to help Get Out the Vote, including sample social media messages, polling time infographics, op-ed guidelines and a Prescription to Vote to share with patients and parents.
These are just a few ways you can take action now and add your voice to the Academy's efforts. Please encourage your colleagues to join you! We will continue to reach out with opportunities to help speak up for children this election and thank you for your work to #VoteKids!