Iowa Award Winner, 2016 CDC Childhood Immunization Awards
Dr. Jody Murph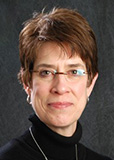 When Dr. Jody Murph realized only 22% of infants born in Iowa in 2008 received the Hepatitis B (Hep B) vaccine in their first 24 hours, she resolved to improve these rates and promote vaccination within the first 12 hours after birth. She worked with the Iowa Department of Public Health to design a new educational campaign aimed at healthcare professionals. This campaign encouraged the administration of the Hep B birth dose in the delivery room at the same time the infant receives erythromycin eye ointment and the vitamin K injection. This is now the current protocol in many hospitals around the state, including the University of Iowa Children's Hospital (UIHC).
Dr. Murph also spearheaded a new program at her hospital to protect newborn infants from pertussis. Through this program, the Tdap vaccine is now offered to every woman who received prenatal care or gives birth at UIHC. The mother's partner and other adult household members can also be vaccinated.
As an Associate Professor at the University of Iowa, Dr. Murph has lectured on immunization to medical students, nursing students, public health students, and faculty for many years. She is considered a statewide immunization expert and offers guidance to medical and public health groups at the state level. Dr. Murph has also consulted for the Iowa Department of Public Health on immunization related issues.
For her commitment to improving immunization practices within her hospital and across the state, Dr. Murph is Iowa's CDC Childhood Immunization Champion.
Visit the CDC website to see the 2016 Childhood Immunization Award winners from all states.